SL Laser – a leading manufacturer for industrial lasers
A powerful team of 25 experienced engineers and technicians serves all demands to our customers during the diff erent projects. From development,construction, production and sales, these all take place in our house.
Our distribution network allows SL Laser to work and deliver our High-Tech-Systems worldwide.
Managing directors: Dominique Philipps & Antonios Alexoudas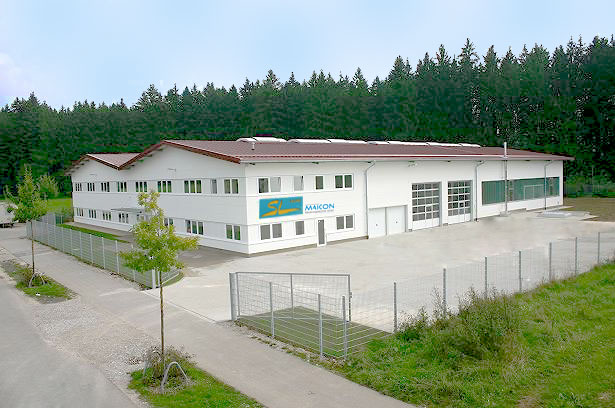 SL Laser History
Rolf W. Seiffert founded Seiffert Lasertechnik.
Relocation to Tittmoning.
Company is acquired by Konrad Maierhofer and relocated to larger facility in Traunreut with more than 10.000 sqft.
Company SL-Laser (France) SARL and SL-laser Systems LP (USA) was founded.
The company SL-Laser GmbH has new premises with production and manufacturing areas, and office space related to the Dieselstr. 2.
Company is acquired by Dominique Philipps, he is also the new managing director.
About us
Since 1988, SL Laser has been manufacturing laser projection systems with all important accessories in the highest quality. In these more than 30 years, our developers have not only achieved groundbreaking advances in the technology used and the operating software.
Rather, the high demand for our equipment and our training has created a worldwide network of subsidiaries and distribution partners.
SL Laser projectors are now used with great success on all continents. Our training experts, who specialise in the various industries, always take long journeys to make the use of SL industrial lasers a success for the customer right from the start.
In most cases, this runs absolutely smoothly, because the user-friendliness and quick learnability of our laser projectors for the craftsmen, laminators or e.g. industrial welders is our most important guiding value.
Do you have
any questions?
Contact us.

Worldwide sales partners
The industrial lasers from the manufacturer SL Laser and the quality of their technology have now achieved a kind of legendary status. At this point, we have to say thank you – to the customers as well as to all the active colleagues who accelerate and perfect their work with the SL Laser projection systems every day.
Word gets around among colleagues in all sectors and has a more lasting effect on the success of SL Laser than many an advertising campaign.
Suitable for many industries
he industrial lasers from the manufacturer SL Laser have spread across many countries as well as many industries. The high flexibility of a ProDirector 7 or the ProDirector XS2 Mobile is used today in stone, wood and textile processing just as much as it has found its way into demanding yacht building, composite production or the highly precise aerospace industry.
With operator software adapted to the respective requirements, the data of the 2D or 3D Cad design can be transferred to the laser projection system and used in almost any situation.
Proven a thousand times
Thousands of companies have quickly realised after the short familiarisation phase that the investment in an SL laser projector soon pays off and is profitable. The significant reduction in the margin of error and working time due to our products also gives them a clear advantage over the competition.
As a manufacturing company, we attach great importance to the flawless functionality of the products and the flexible adaptation to all requirements placed on the devices.
Production in Germany
Therefore, the production of all industrial lasers and their applications worldwide still takes place in our company in Traunreut. At this point, however, we would not only like to thank you.
We can promise you that we will continue to do our utmost as a manufacturer to advance the technical development of SL laser projectors and to make the operation of the various applications as easy as before.