Laser projection in the metal industry
The metal industry is highly competitive – all over the world. Laser projection makes it possible to utilise the machines to their full capacity and to use the labour of the employees efficiently and yet in a compatible manner. With improved quality, less time and lower costs, important competitive advantages can be achieved. With a rental system from SL Laser, you can see for yourself the higher performance and greater precision in metalworking. Contact us today – we will provide you with an offer that is perfectly tailored to your needs.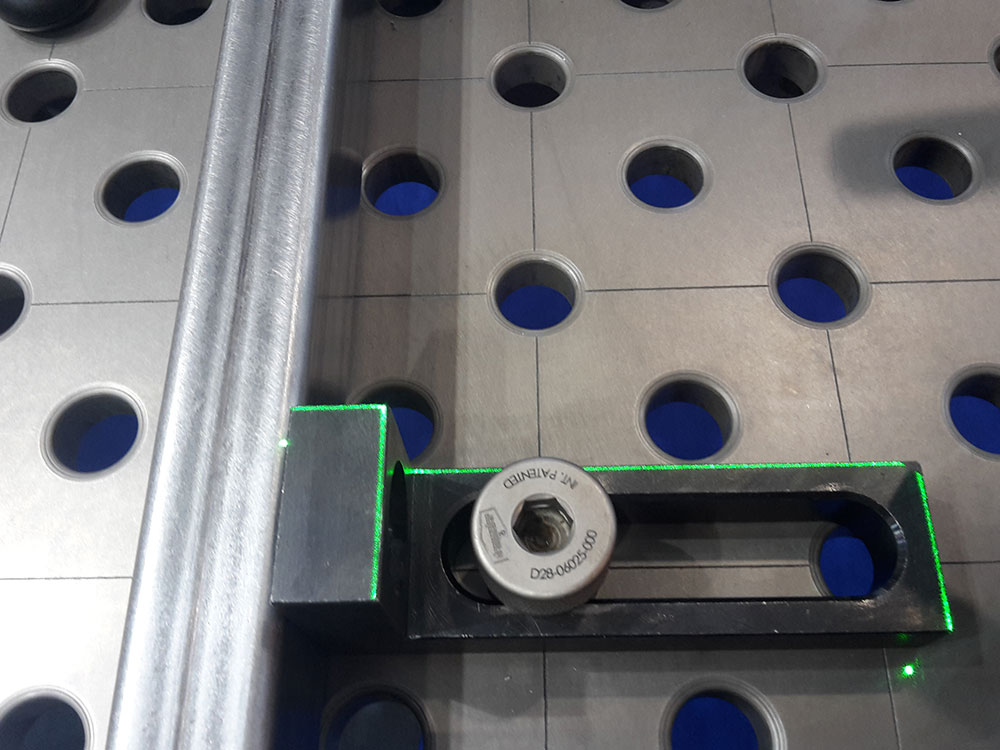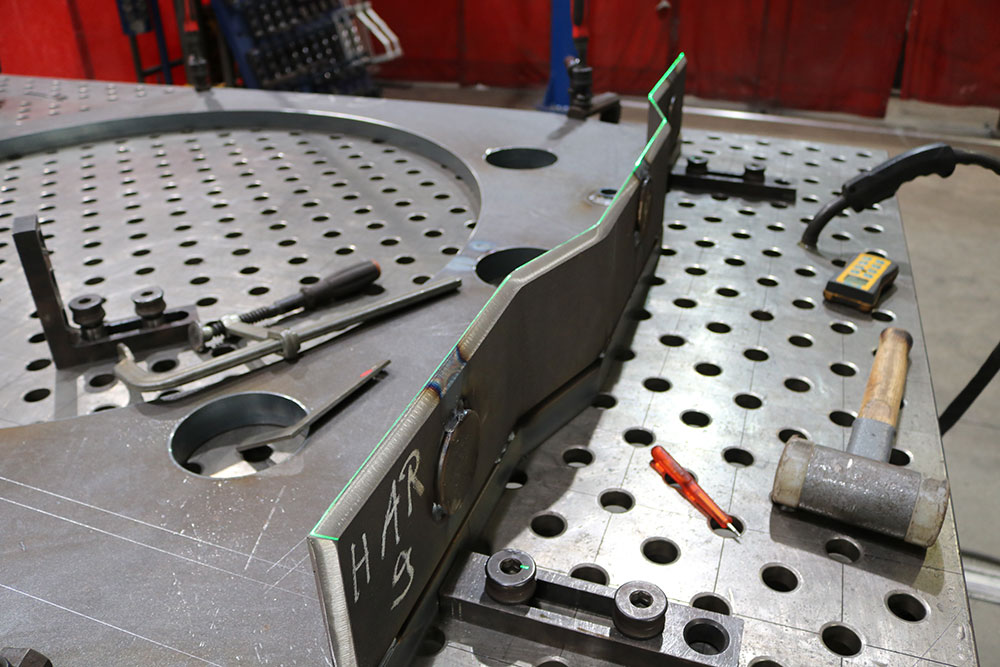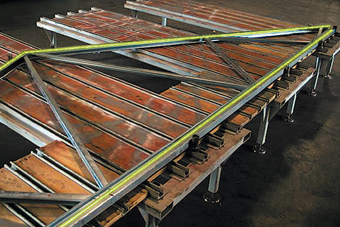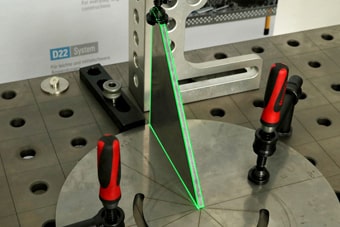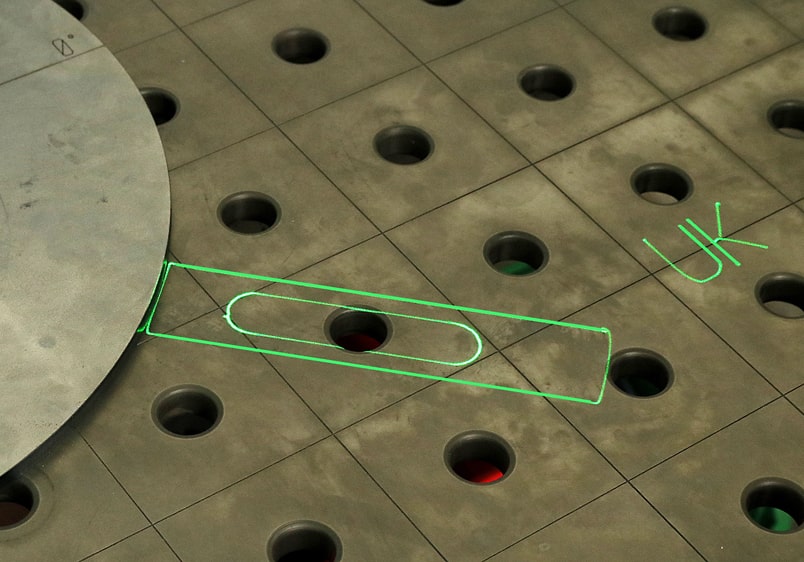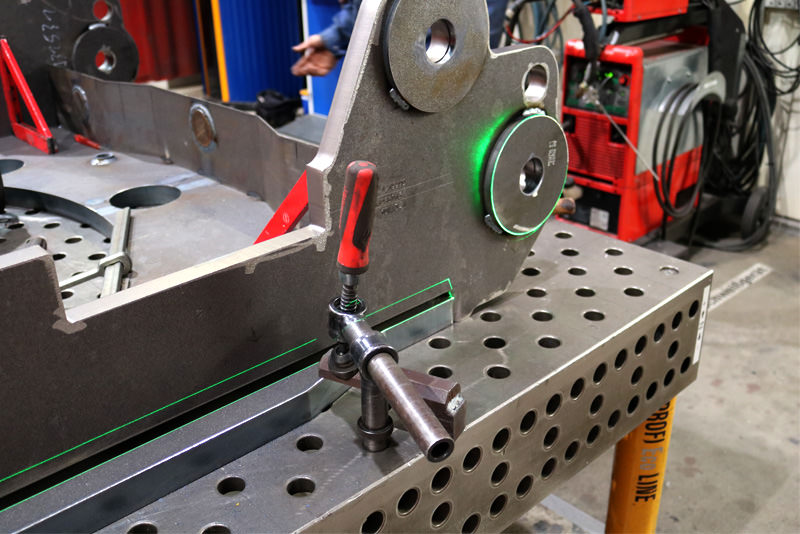 Laser projection on the welding table
Laser projection on the welding table
With ProDirector 7, work at the welding table is made considerably easier. The data for the projection come directly from the CAD programme and are projected true to scale from any height. The scale of 1:1 not only facilitates the positioning of the workpieces to the millimetre, but also allows the exact alignment of the clamping devices.
Without the need for elaborate templates, precise work is carried out in which all set-up specifications are adhered to and no attachments are forgotten. The usual set-up repeats become child's play with the projection from ProDirector 7. Quality control in particular is greatly facilitated – employee and customer satisfaction grows with every job.
Do you have
any questions?
Contact us.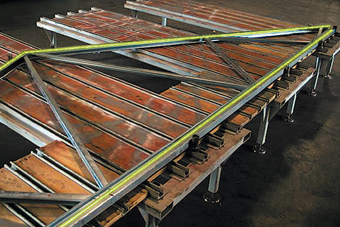 Laser projection for steel trusses
The set-up times for steel trusses usually represent an enormous expenditure of time. This effort can be reduced by up to 70% with ProDirector 7. With the projection on a scale of 1:1, not only the contour of the truss is displayed with millimetre precision, but also the stop position and the exact positions for the screw connections. The setup of an application can thus be carried out in the shortest possible time. As soon as the setup status changes, the specially developed Laserpilot software sends the new data to the ProDirector, which immediately displays the changed positions. Laserpilot is compatible with the usual CAD systems and converts the data effortlessly.
This significantly increases productivity at work; the drawings can be implemented with practically no loss of time. At the same time, repetitive tasks can be easily programmed by the user. This also enables the use of teams working in parallel, so that the output of binders is increased. Our training experts train your employees precisely in line with their tasks, without distracting them with unnecessary theoretical information.
Laser projection in steel construction
Projection laser for the set-up table